The Coastal Bodies 8 Week Transformation Challenge
Have you struggled to lose weight in the past? Tried every diet and exercise programme under the sun and been discouraged with the results?
Our 8 Week Transformation Challenge aims to give you the tools to enable you to take the first steps towards improving your health and fitness. With the help of our programme, you'll decrease your body fat, increase your lean muscle tissue, improve your strength and fitness, and get on the pathway to a healthier life.
The eight weeks will be challenging, but also tremendously rewarding. We will teach you the essentials of how to:
set clear, realistic and achievable goals that ensure you succeed;
eat in a way that will enhance and optimise your workouts and energy levels;
exercise effectively so that you burn maximum body fat while retaining essential muscle mass;
maintain the benefits throughout the rest of the year.
Although we call it the '8 Week Challenge', this is not a short-term fix. Rather, we see it as the first step in helping you to create the habits you need to live a healthier life, for the rest of your life. We don't just focus on how you physically look, but also on how you feel. Our emphasis on creating a healthy mind to go with your fitter, healthier body and lifestyle will have a powerful impact on your overall wellbeing.
To help you on this journey, you will receive as much guidance as you need from our team of expert trainers. In addition, you will have the opportunity to build support networks and friendships amongst fellow challengers, as well as joining our private Facebook page to share your progress and experiences with the Challenge Community.
Included in the 8 Week Challenge are:
Goal setting
Recording measurements at the start, half-way mark and finish
The Deficit Day System nutrition plan (created by The Boutagy Fitness Institute)
Introduction to using the MyFitnessPal app to track your nutrition
Training programmes to support your goals, and get you fitter and stronger than ever before
Unlimited support from your personal trainers
To get started on the next round of the Coastal Bodies 8 Week Transformation Challenge, please fill in the form below or call us on 1300 177 119!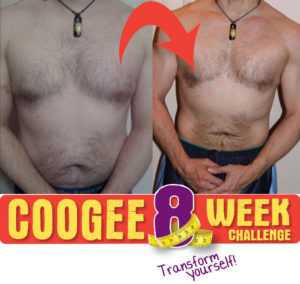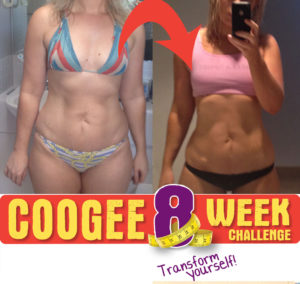 Past 8 Week Transformation Challenge Results
Here is a testimonial from past challenger 'Dean Bowman'
"I had tried all the diets under the sun, you name it I'd done it, shake, juice, cabbage, Atkins, cereal to mention a few. When returning home from work I noted a sign outside the Coastal Bodies studio mentioning an 8-week weight loss challenge. I checked out the website and within minutes had signed up for "Coogee 8 Week Challenge".
I had never undertaken an exercise to any great extent prior to attending the circuit training classes and this made me feel very nervous. On arrival, I was greeted by friendly staff members and introduced to all the participating members. Classes were kept small from as little as two to an average of about 5 or 6. The atmosphere was friendly and all the staff and members alike work towards making the best out of the session. I found the support from the others members as valuable as that from the trainer. The trainers were professional and in control at all times giving me the confidence that I was in a safe environment. The circuit type classes are fast moving, giving high impact and fast results. At the end of each 45-minute class, I felt that I had worked hard and had a real sense of achievement.
The challenge included a diet plan. I work full time, 5 days a week and I managed to work it into my daily life easily. If I can do it, anyone can!
The 24/7 access to a Personal Trainer via the 8-week challenge forum I personally found invaluable. This gave all the challengers the opportunity to chat to each other with dietary questions, exercise tips, recipes and any problems we were facing with the challenge as well as getting the professional advice from the trainers.
The fantastic results I achieved were astonishing. In 8 weeks I lost over 18kg*. I feel physically fitter and healthier not to mention the confidence I have gained. The effects have been noticed by my colleagues and friends who cannot believe the transformation in just 8 weeks. (*Results may vary depending on lifestyle, diet and commitment to our program.)
This has changed my life forever. I now love to exercise and keep fit, undertaking organised events such as 8, 10 and 14 km runs. This would have never been possible before the challenge."
Here is a testimonial from Runner Up 'Hunter Bryce':
"Since walking into Coastal Bodies to undertake the 8-week challenge I have dropped 20+ kg and completely transformed my life. There is no way I could have done it without the personal attention and tailored programmes that they provide. Coastal Bodies is more than a gym to me; the people there represent a way of life. Prior to Coastal Bodies, I had been trying to lose weight for eight years or so, never with any long-term success. The service they provide is so comprehensive that it's been a major enabler in allowing me to re-focus my life around health and fitness. Bouncing between healthy and bad lifestyles used to be a pattern, a two-way path. Coastal Bodies has allowed me to make it one way, no more going back. I found leaving bad lifestyle habits a bit like leaving an addictive substance, its hard and you've not got much chance on your own. Thank you, Coastal Bodies and the 8 Week Challenge for providing that much-needed help."